SportfishTrader, the renowned name in the business, has offered a brilliant opportunity for private sellers, who can now Sell A Boat for just $1 per day.
SportfishTrader was founded by Steve Momot and Eric Gurnitz, who have years of experience helping boat brokers in South Florida and around the world get their listings on top of social media and classifieds. They have done that through eye-catching imagery and the latest fine marketing skills that have made their mark. They have come up with a platform that is focused entirely on buying and selling sportfishing boats.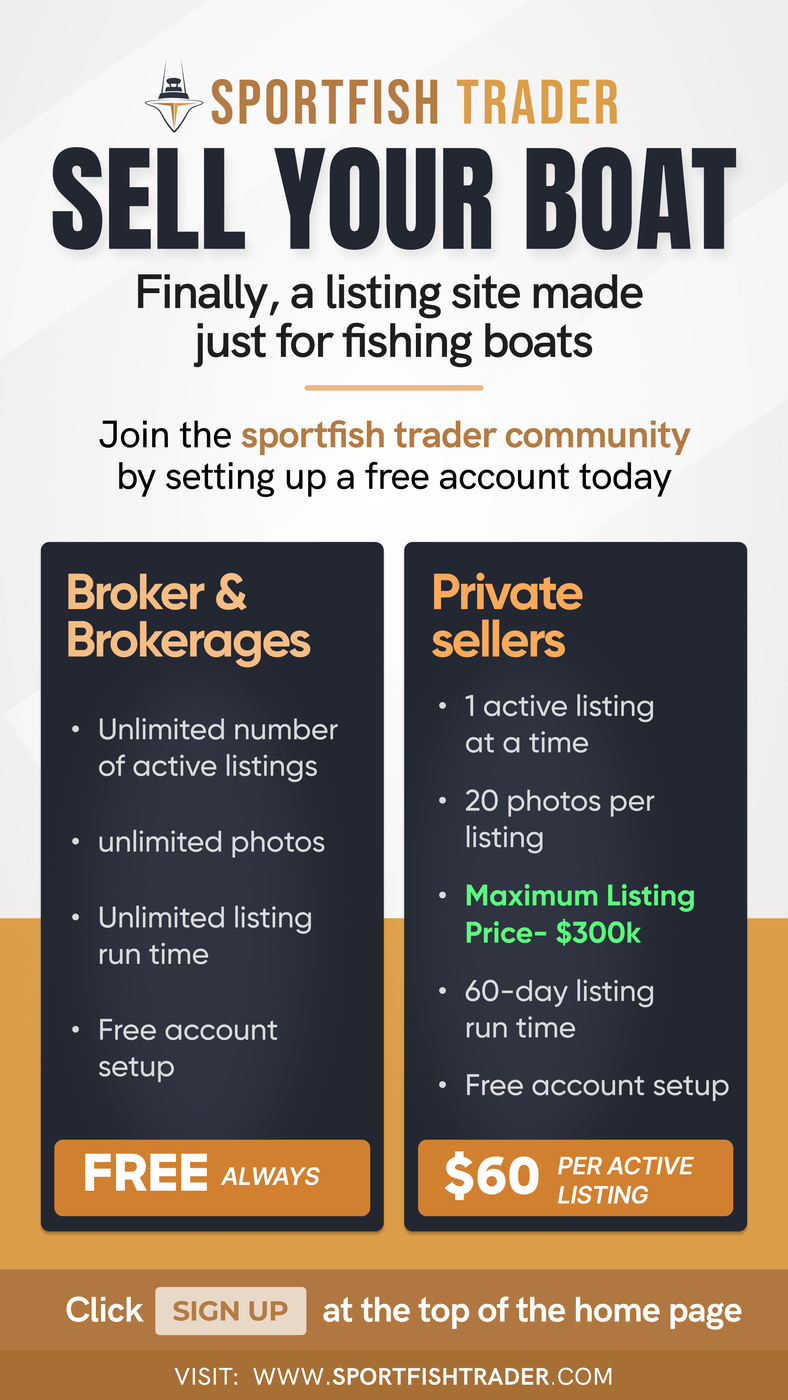 How To Sell A Boat is often tricky for owners, and it's harder for those who own sportfishing boats. SportfishTrader is the first, one-of-a-kind platform dedicated to sportfishing, and it has been designed to bring together buyers and sellers faster and make things easier.
This platform is an ode to the industry from Steve Momot and Eric Gurnitz, who have reveled in the opportunities they have received. It's sort of a giving-back mission for them, and the results are already showing with many glowing customer testimonials that speak for themselves. According to them, Selling Your Boat has never been easier with the platform that assures people that it will never share or sell their listings to brokers.
What makes SportfishTrader stand out is that it is not just another buying and selling platform. It has the might of well-established social media accounts within the community behind it. Its founders have also harnessed strong personal relationships over the years, which are leveraged to ensure that buyers and sellers on the site can get only the best options at their fingertips.
What the Best Way To Sell A Boat is a comprehensive information resource on this website. SportfishTrader is a buzzing community for anyone interested in Sportfishing. Its listings include a wide range of options and valuable information about them. Sellers benefit from appealing imagery that has an instant impact.
But now, all private sellers can sell their boats on the website for $1 per day. The only restriction is that the boat needs to be valued at $300k or less. In the case of higher-value boats, they will need to be represented by licensed brokers. To know more about SportfishTrader and the powerful resource, visit sportfishtrader.com.
About SportfishTrader
Founded by Steve Momot and Eric Gurnitz, who have helped boat brokers around the world get their listings on top of social media and classifieds for years, it is the first website wholly dedicated to buying and selling Sportfishing boats.
Media Contact
Sportfishtrader
URL: https://sportfishtrader.com/
Phone: 954-369-6733
newsroom: news.38digitalmarket.com
Original Source of the original story >> SportfishTrader Offers Fantastic New Opportunity For Private Sellers
This content is published on behalf of the above source. Please contact them directly for any concern related to the above.
This press release may contain forward-looking statements. Forward-looking statements describe future expectations, plans, results, or strategies (including product offerings, regulatory plans and business plans) and may change without notice. You are cautioned that such statements are subject to a multitude of risks and uncertainties that could cause future circumstances, events, or results to differ materially from those projected in the forward-looking statements, including the risks that actual results may differ materially from those projected in the forward-looking statements.