Johannesburg, South Africa - Oscar Pistorius will remain behind bars, a South African parole board decided Friday, after the double-amputee athlete applied for early release. Kate Bartlett reports from Johannesburg.
The board said it denied the parole request because Pistorius - once dubbed 'The Blade Runner' for his high-tech prosthetics - was not yet eligible and hadn't reached the minimum detention period required.
Pistorius, 36, was sentenced to 13 years in prison for the murder of his model girlfriend, Reeva Steenkamp, on Valentine's Day 2013.
He said he believed there was an intruder in the house, saying that is why he shot three times through the bathroom door, killing Steenkamp.
The paralympic gold medalist, who also ran in the 2012 London Olympics, has always maintained his story, despite the verdict finding him guilty of murder.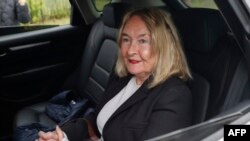 The mother of Reeva Steenkamp, June Steenkamp smiles as she arrives at the Atteridgeville Correctional Centre in Pretoria, South Africa on March 31, 2023. Paralympic champion Oscar Pistorius was denied parole, a decade after he killed Reeva Steenkamp.
Ahead of the parole hearing in Pretoria, the victim's mother, June Steenkamp, told media she didn't believe Pistorius was 'remorseful... or rehabilitated.'
'While they welcome today's decision, it's not a celebration for them because they still miss Reeva every day but they are pleased that justice has prevailed,' Tania Koen, the Steenkamps' lawyer, told VOA.
The board said Pistorius could apply for parole again in August of next year.
Pistorius's lawyer, Julian Knight, told local media he would be 'taking this decision on review.'