Latest developments:
A 2-year-old girl was killed and 22 other injured, five of them children, from a Russian missile strike near the central Ukrainian city of Dnipro, the regional governor, Serhiy Lysak, said Sunday. 'Overnight, the body of a girl who had just turned two was pulled from under the rubble of a house,' he wrote on the Telegram messaging channel. Reuters could not independently verify the report. There was no immediate response from Moscow.
Saudi Arabia plans new oil production cuts in 2024 as part of a broader OPEC+ deal to curb output as the group faces flagging oil prices and a looming supply glut, Reuters reports. Western nations have accused OPEC of manipulating oil prices and undermining the global economy through high energy costs and siding with Russia despite Western sanctions on Moscow.
The award-winning film, "20 Days in Mariupol," premiered Saturday in Ukraine. The documentary chronicles the port city's bitter resistance against Russia's full-scale invasion of Ukraine. The film was met with tears, applause and a standing ovation for those who toiled to keep people alive in the city.
Many of the more than 1,000 Kyiv shelters checked during the first day of an inspection ordered by Ukrainian President Volodymyr Zelenskyy were found inaccessible or unsuitable for use, said the minister of strategic industries, Oleksandr Kamyshin.
In a post on the Telegram messaging app. the senior Ukrainian official expressed his "disbelief" at the findings. Kamyshin said that out of 1,078 shelters examined, 359 were unprepared and another 122 locked, while 597 were found to be usable.
An inspection of all Ukrainian shelters was ordered Friday, a day after three civilians were killed in Kyiv while trying to enter a locked facility in the early hours of the morning during a Russian airstrike.
Thursday's deaths caused a public outcry and a promise of a harsh response by Zelenskyy, which appeared aimed at Kyiv Mayor Vitali Klitschko, who has clashed with the president before.
Klitschko acknowledged at a local committee meeting Friday, that he bore some responsibility but said others were also to blame, particularly allies of the president who had been appointed to lead the city's districts.
The interior ministry said that more than 5,300 volunteers, including emergency workers, police officers and local officials, would continue to inspect shelters across the country.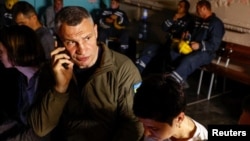 FILE - Kyiv Mayor Vitali Klitschko talks on the phone as he takes cover inside shelter with with responders and local residents during an air raid alert, amid Russia's attacks on Ukraine, in Kyiv, June 1, 2023.
Cross-border incursions
The Freedom of Russia Legion and the Russian Volunteer Corps, a pro-Ukraine group of Russian partisans, have claimed responsibility for a flurry of cross-border attacks into Russia's Belgorod region.
In a video on the Freedom of Russia's Telegram channel, a man identifying himself as the commander of the Russian Volunteer Corps showed two Russian soldiers held captive. One of them appeared to be injured and was placed on an operating table.
The commander demanded a meeting with the governor of Belgorod, Vyacheslav Gladkov, in exchange for the captives.
'Today until 17:00 you have the opportunity to communicate without weapons and take home two Russian citizens, ordinary soldiers whom you and your political leadership sent to the slaughter,' read a joint statement posted along with the video.
Three hours later, Gladkov agreed to meet with the group provided the soldiers were still alive.
'Most likely they (the saboteurs) killed them, as hard as it is for me to say. But if they are alive, from 5-6 p.m. - Shebekino checkpoint. I guarantee safety,' he said.
Gladkov added that fighting with a group of 'Ukrainian saboteurs' was taking place in the town of Novaya Tavolzhanka, near the Ukrainian border, without providing any details.
Ukraine has denied direct involvement in the cross-border attacks.
Gladkov said Saturday, two people were killed and two were injured by Ukrainian artillery fire on Belgorod's border region with Ukraine. On Friday, attacks in the area prompted about 5,000 evacuees from nearby border villages to find makeshift housing in the city of Belgorod, said the mayor, Valentin Demidov.
Russian airstrikes - children
A 2-year-old girl has become the most recent victim from the latest Russian airstrike near the central Ukrainian city of Dnipro. The body of the child identified as Liza was pulled from the rubble while five other children were among 22 people wounded in the attack Saturday. President Zelenskyy says Russia's war has killed at least 500 Ukrainian children.
Emergency workers rescue a man from a residential building heavily damaged by a Russian missile strike, on outskirt of the city of Dnipro, Ukraine June 3, 2023.
Writing on Telegram shortly after Liza's body was recovered, Zelenskyy said that at least 500 Ukrainian children have been killed since Russia's full-scale invasion Feb. 24, 2022.
The United Nations says that around 1,000 other Ukrainian children have been wounded, and thousands of others have been forcibly deported to Russia.
Zelenskyy, who Thursday marked International Children's Day, said, "Russian weapons and hatred continue to take and destroy the lives of Ukrainian children every day,' adding, "Many of them could have become famous scholars, artists, sports champions, contributing to Ukraine's history.'
He also said, "We must hold out and win this war!
Zelenskyy went on to say, "All of Ukraine, all our people, all our children, must be free from the Russian terror!"
Russia clamps down on blue-yellow colors
Some local Russian officials are interpreting Russia's "draconian wartime legislation," the British defense ministry said Sunday, to mean that any public display of blue and yellow items is outlawed because it shows support for Ukraine. Blue and yellow are the colors of Ukraine's flag.
One person has been reportedly detained, according to the ministry, for wearing a blue and yellow jacket, while someone else was arrested for displaying a blue and yellow flag "eventually determined" to be the flag of Russia's Aerospace Forces.
Russia's ultra-nationalist, pro-war Liberal Democratic party is an unexpected critic of the arrests, the ministry said, but its logo features yellow on a blue background.
Some information in this article came from The Associated Press, Reuters and Agence France-Presse.